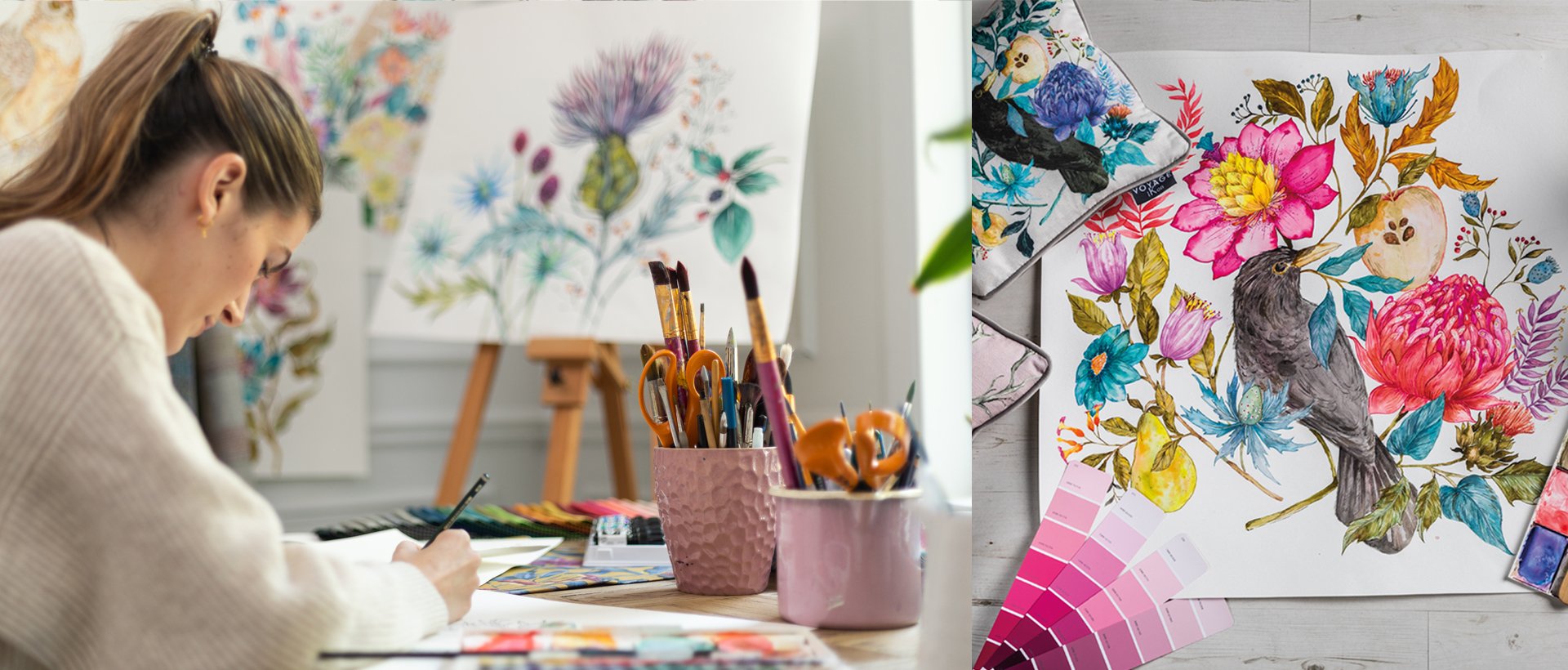 Our Heritage
The Voyage Maison Heritage
Voyage Maison has always been passionate about fabric, design and quality and for over 20 years, Voyage Maison has been at the forefront of the home interior design and manufacturing industry. Our design team are highly talented creative perfectionists who work tirelessly to bring colour, texture and freshly designed collections into your home to help you decorate and accessorise with flair and confidence from our outstanding range of collections, styles and colours.
Aspiring to be colourful and bring a fresh airy feel to the home, the Voyage Maison artists express their vision in soft watercolour painting and drawings brought to life in our own studio by our talented team of artists. After creating our unique artwork by painting in watercolour ink, we then digitise and print our collection in our own printworks. Voyage Maison is committed to printing our designs on natural fibres only. The fabric is then manufactured into our range of cushions, wallpapers, lamp shades and furniture such as armchairs and footstools to the highest standards.
Most of our manufacturing is in the UK as we fully believe in supporting local manufacturing and only import products that are no longer made in this country. Whatever area at home you want to refresh, we have a style that meets your expectations. Voyage Maison not only offers design styles in furniture, soft furnishings, lighting and wall art but also complementary colour combinations, so you are never short of ideas to inspire and help you to re-energise and decorate your home.
All of this happens in the heart of Scotland and whilst we have a countrywide network of stockists, the Voyage Maison website is the gateway for you to see the entire range of every product and collection we have. This includes Voyage Maison's Web Exclusives. These are specific designs that we produce which are only available from our online store. Keeping to the watercolour beginnings, everything we produce is with beautiful home décor in mind.
Our latest collection is the Voyage Maison iKon label - a collection full of magic fluttering after dark amongst an abundance of blooming and botanical foliage. A symbol of a new start, the iKon collection focuses on traditional craftsmanship through the medium of watercolour and gouache. Our iconic hero designs include birds of prey to magpies and common blackbirds. Voyage Maison's in-house designers have sourced the finest quality handmade textile trims from opulent ruches to velvet oxford edges and shiny hand wrapped beads.
With splendour and flamboyancy in mind, our designers have focussed on creating grander cushion sizes for the new iKon collection. The use of colour and textile trim within the iKon collection adds an extra touch of luxury - exaggerated but traditional in keeping with our tribute to arts and crafts. The Voyage Maison vision is to create and enhance the beautiful home with a fresh, artistic feel that is unique in look and represents a contemporary, country lifestyle.